IMPORTANT NEWS!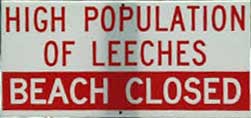 You may have been reading news stories about LEECHES closing the beaches at Minnewaska. If not, here are a few links to some of those news articles:
How familiar are you with the lake at Minnewaska?
Those of us that swam, boated, worked on, and drank from the waters of Lake Minnewaska will surely be shocked by this news. This lake supplied drinking water directly to the 200+ room twin hotels that sat on the cliffs of Lake Minnewaska for one-hundred years. The water was pure, crystal clear and absolutely clean. No filtration was needed.
When the State of New York took over Minnewaska, they installed a septic leach field ON THE CLIFF near Windsong. If you and I want to build a septic system, we need to go through a series of reviews and permits. The State did none of this. If you allow sewage to seep through the rocks on top of the cliff, where will it go? Yes right in the lake!
The issue is simple: The State knows their sewage system created this leech problem and they are trying to avoid taking responsibility. If their explanations (reduction of acid rain, bird poop, humans swimming) were truthful, nearby Lake Awosting would also be effected and pollution would have occurred earlier under private ownership. The truth is that the lake was safely managed by private owners for more than a century and ruined forever in decades by an inattentive, uncaring New York State bureaucracy including Park Management (designed sewer) and both DEC and Health Department (responsible for review and oversight).
At this point, the various state agencies are simply waiting for the story to go away.
It is very important that this story be brought to light! The chemistry of Lake Minnewaska has likely been permanently altered.
Stay tuned for more on this and please do whatever you can to not let this story fade away. Most of the news stories above have places where you can leave comments. Comment on Yelp, TripAdvisor.
I've started a thread on our forum. NO ACCOUNT NECESSARY to post a comment!
I lived and worked at Minnewaska in the 70's. One of my jobs was to go out on a canoe with a grabber device and pull trash out from the bottom of the shallow side of the lake. You could see several feet down as if you were looking in an aquarium. I live out in California now, and every time I go back to visit Minnewaska, it seems to get murkier and browner. Now I know it is not my imagination. Minnewaska is in my SOUL! I've been around the world to the most beautiful places you can imagine. None more beautiful than Minnewaska. This is just heartbreaking.
Sam Lewit